Sam Jones' Seven Islands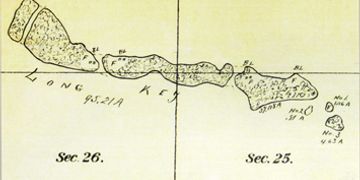 "Sam Jones's possessions consist of a group of several islands, differing in size and separated by narrow slices. Upon the largest of these [Long Key], is about one hundred and fifty yards in width and half a mile in length, are three villages and dancing-grounds...." From a military engineer's report in 1841.
Sam Jones was the Americanized name for the powerful Seminole leader, Abiaka. Although a medicine man, he is remembered more as a warrior and military planner. Abiaka is given credit for masterminding Seminole victories in many battles.